[column width="1/3″ place="first" ]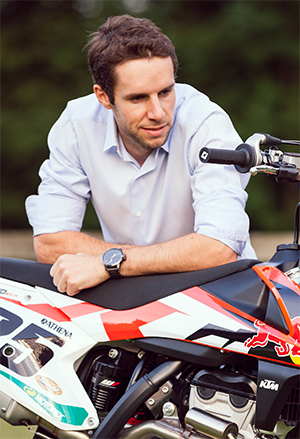 [/column]
[column width="2/3″ place="last" ]
[headline]Bio[/headline]
I think I can best describe myself as a (retired) motocross racer with a passion for photography and a great deal of admiration for horse riding. And what started out as something to pass the time between motos on a motocross race day, turned into this site.
I got my first digital (compact) camera around 2000 and I always took it with me to the races. Because the first and the second moto had a couple of hours between them, I was able to shoot some 'action'. In 2003 I got my first (2nd hand!) DSLR. Over the years lenses were added and cameras were replaced…
In 2006 horse riding got me intrigued and I have been a frequent spectator of all kinds of horse-related events since. Over the years eventing action shots have become one of my specialties. I even won an international competition with one of them. You can read all about that here.
[headline]Services[/headline]
[list type=minus_list]
Photography
Websites
Videography
Workshops
Consultancy
…
[/list]
[/column]
In the weekends you will most likely find me at a horse riding event (Eventing, Jumpings, Dressage,…) or at a motocross track (MCLB, MXGP, Komen, …). To keep things fresh and interesting I shoot around 5 weddings per year and I also try to add some random private shoots (with and without horses). If it involves photography, I'm interested! I do have a limit for weddings, because I don't want it to feel like I'm working on an assembly line… I don't want it to feel like work at all actually. I really love looking forward to the big day! So I think a limit is best for both me and the customers, because for sure this shows in the end result.
I've made some sites (including this one), some loose designs (business cards, logos, …) and I've even made some videos. You can check some of my work here.
I also love to share my knowledge! I can give you advice on photography in general, I can give you advice on what equipment to buy and I can also give you advice on how to get the best out of it.
So please, if there's anything I can do for you, let me know.